Mavka's dress and accessories designed by Ukrainian costume designer Olga Navrotska were demonstrated at the Fashion Film Festival Kyiv Space (FFFK Space). This was a kind of a spin-off to the Fashion Film Festival Kyiv (FFFK), the first-ever short fashion film festival founded 2 years ago as a result of partnership between UFW и FILM.UA Group.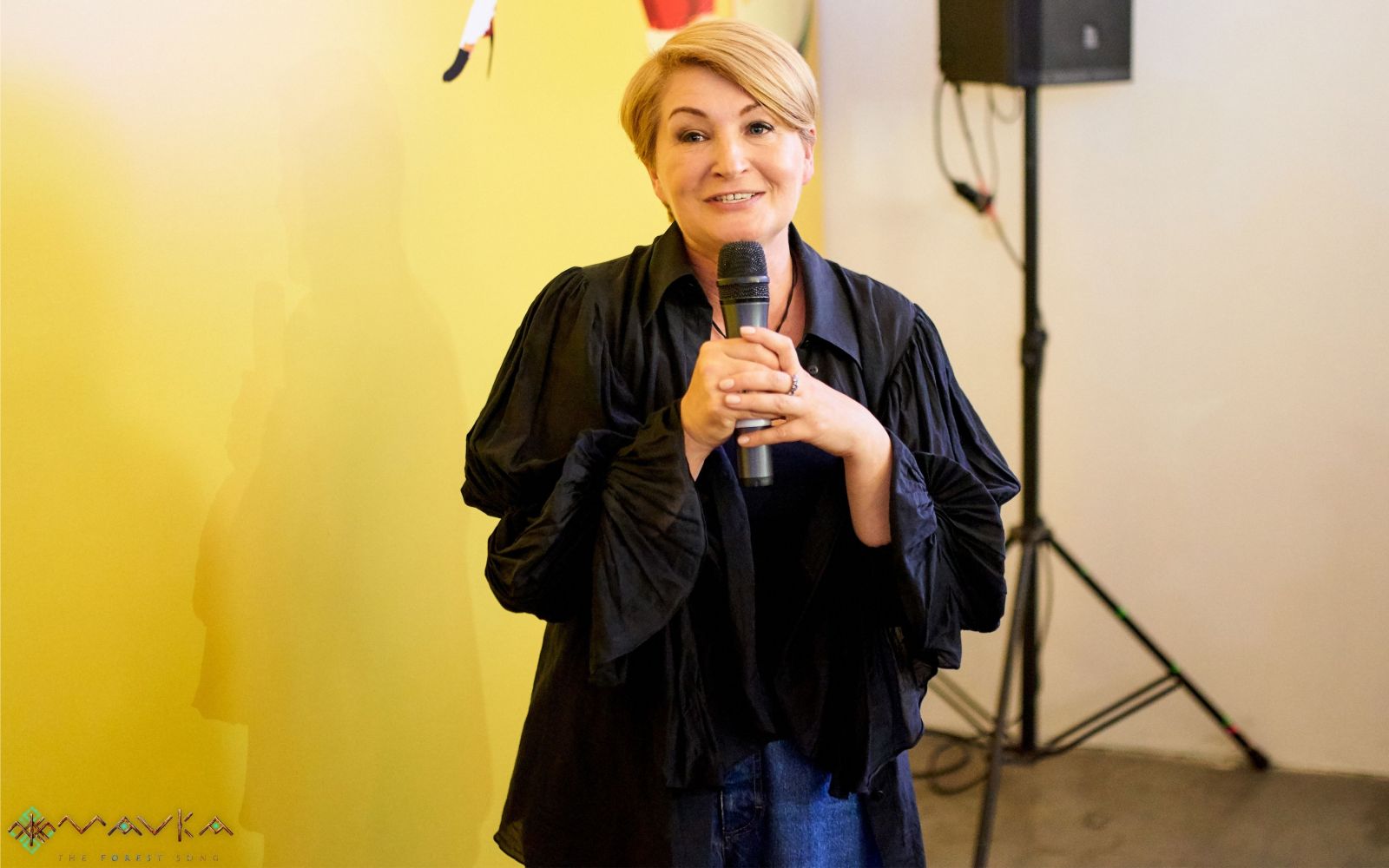 According to Iryna Danylevska, co-founder of Ukrainian Fashion Week, who has also been in charge of leading the event's organizing committee, Ukrainian fashion industry has been building a promising partnership with Ukrainian film industry. The idea of FFFK Space is focused on bringing together in a single creative space filmmaking-related works by Ukrainian designers.
"A great example of collaboration between fashion and film industry is our partnership with Olga Navrotska," said Iryna Kostyuk, FILM.UA Group producer during the opening night, "She created the costumes for the Mavka movie. This is very unusual for animation movies. At FFFK Space, we demonstrated top dress from MAVKA capsule collection. You can also see it in Olga's fashion film "Inseparable". We based the mood teaser for our new project "The Potion" on this film. I think it's a great example that illustrates the connection between the two creative industries."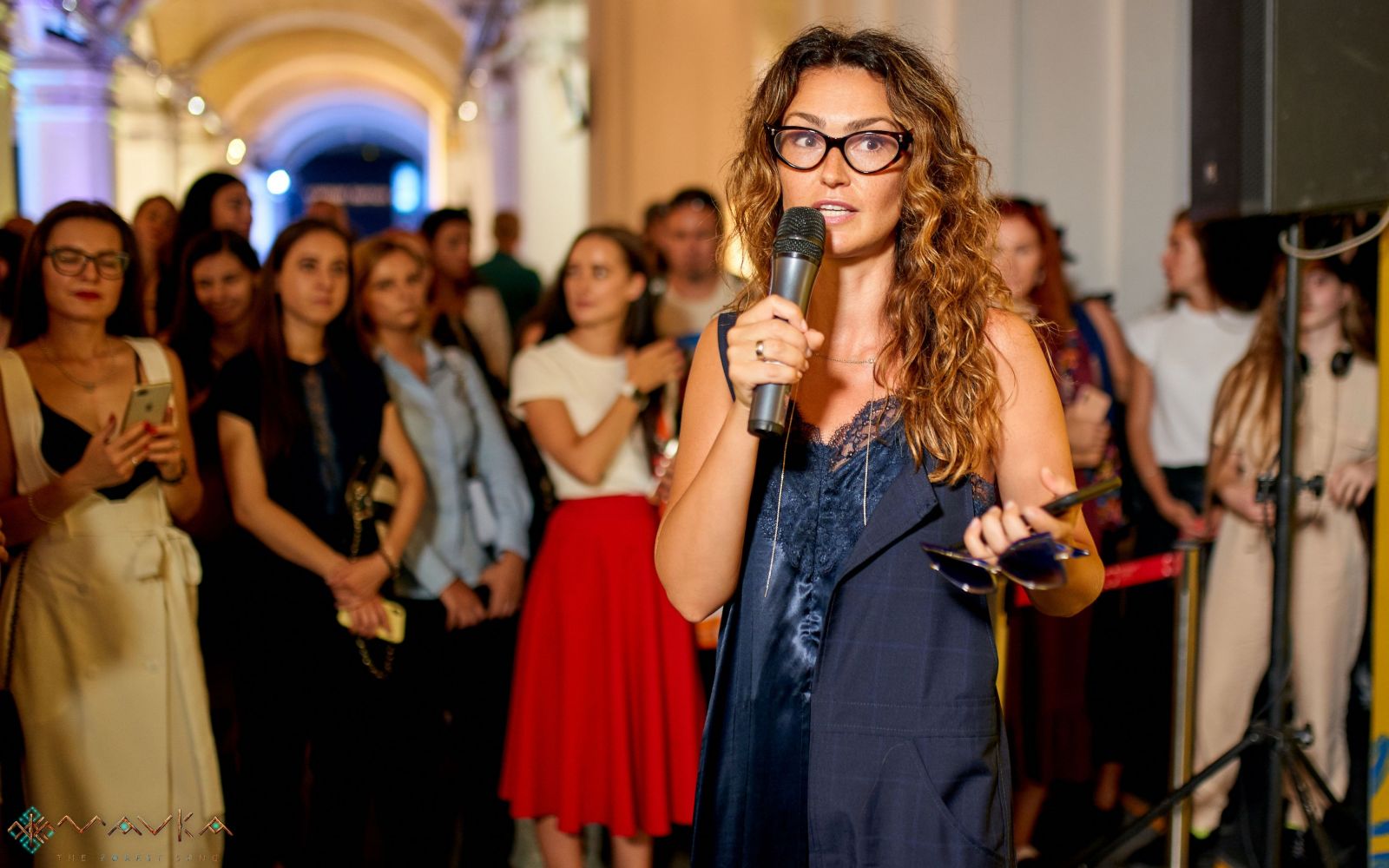 Costume designer Olga Navrotska, who is also the founder of her own brand NAVRO, came to fashion from filmmaking. She was the first-ever Ukrainian designer to collaborate with Ukrainian filmmakers.
"I love film, I miss filmmaking, and I want to come back and create costumes for movies. Being part of it is the greatest accomplishment in my designer career," confessed Olga Navrotska during FFFK Space presentation, "If it's a history or fantasy movie, you can get really creative and no one will ask you anything like, "How do actually you wear this?"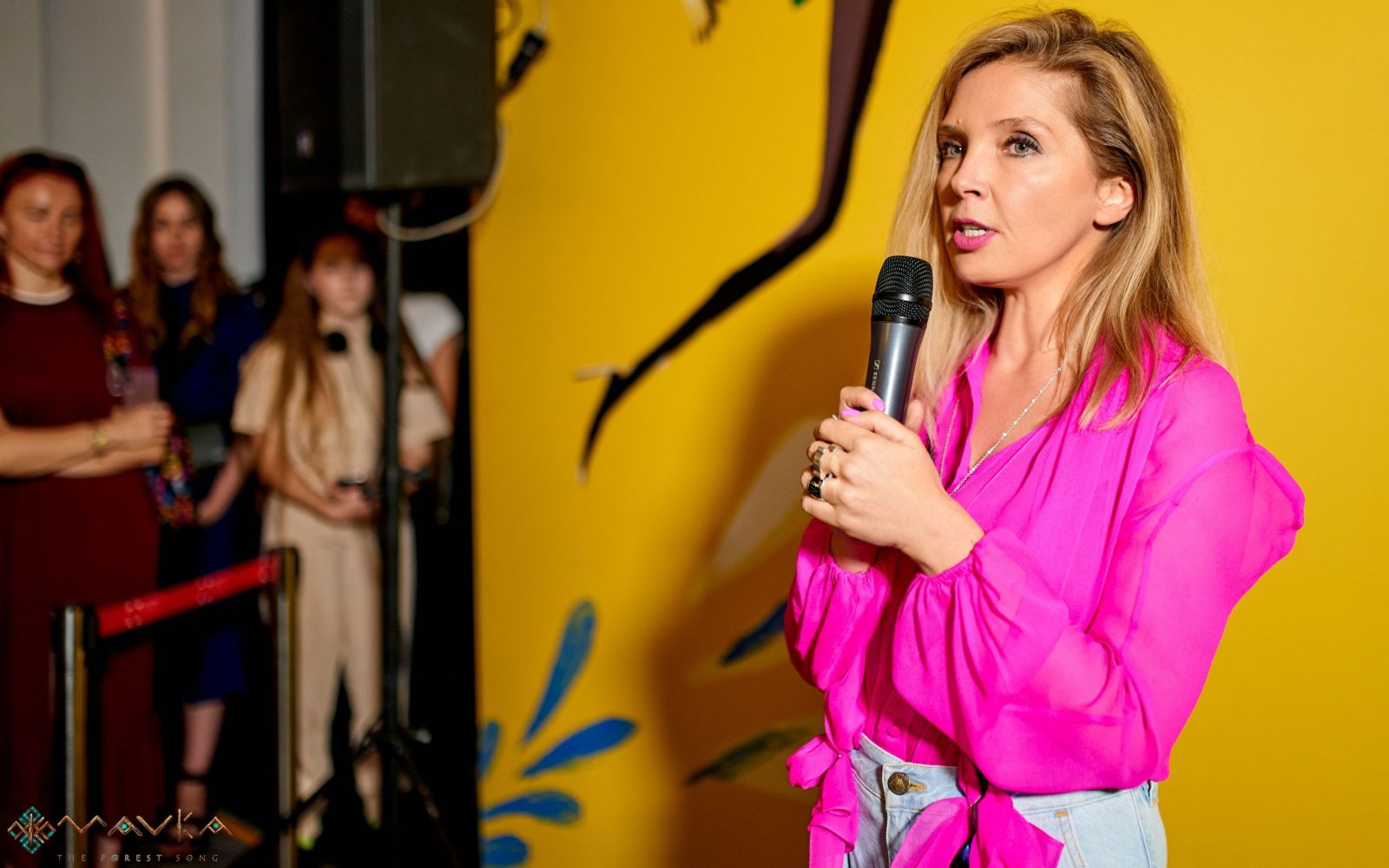 Olga Navrotska was the first Ukrainian fashion designer to create costumes for animated movies. Her collaboration with FILM.UA Group is a great illustration of prospects that can open before Ukrainian designers if they come to work in film production.
Mavka's dress by NAVRO has become a linking element for the three motion pictures. First, it's a part of Mavka's image, whose style was developed by Olga Navrotska. This fantasy outfit was the first one among the six dresses from the designer collection.
"When I worked on the costumes for the Mavka movie, I used shape, materials and prints on fabrics to illustrate the magical connection between our heroine and nature, Mavka's enigma and her ability to shapeshift and change, just like day and night, or spring and summer. I am happy to have found my inspiration for MAVKA capsule collection while working on the forest nymph's image," said Olga Navrotska.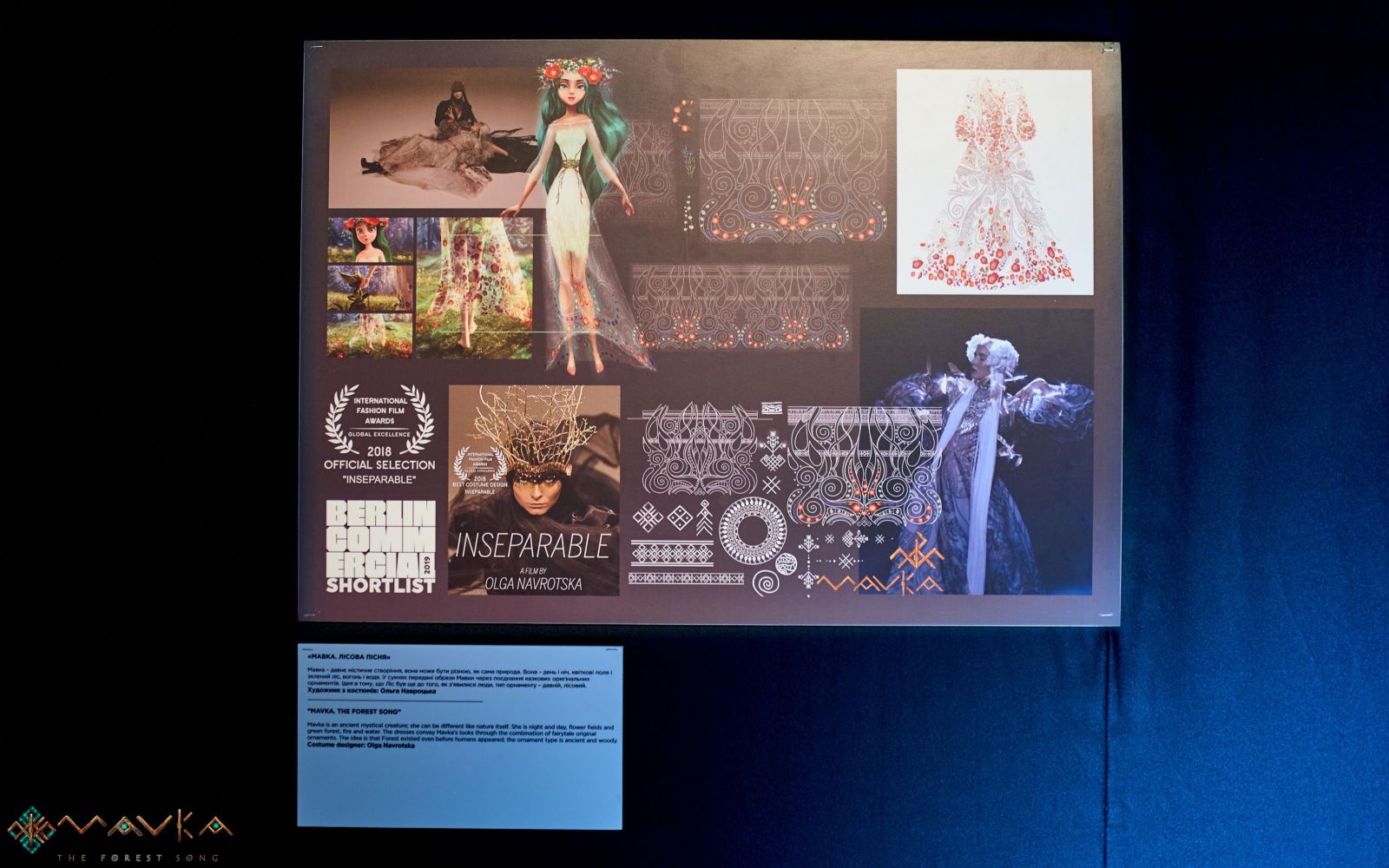 You can see the very same dress from the Mavka movie in "Inseparable", a fashion film by Olga Navrotska that was awarded the prize for the best costume design at La Jolla, the biggest short film festival that takes place in California, and as well became the finalist at FFFK-2019.
And finally, visual images created by Olga Navrotska do a great job embodying the idea and mystics of the ethno-thriller in production "The Potion" based on the novel by the famous Ukrainian writer Olga Kobylyanska. Olga Navrotska joined this project as a costume designer.
"Working on the Mavka Universe was a new experience, and it seems to me there aren't so many costume designers who get to work in aminated movies," said Olga Navrotska, "In the Mavka movie, the important concept is the Forest that had lived long before the humans, and that's why we designed the unique ornament featuring the ancient, primeval, virgin forest and put it on the forest nymph's dress. It shows the links our heroine has with the Forest and nature. When I worked on FILM.UA projects, I got a chance to combine all my favorite themes, including wood, flowers, and ethnic elements. As a result, these images that show the beauty of Ukraine's nature and Ukrainian traditional costume, made a perfect match with the magical Mavka Universe and the atmosphere of "The Potion" movie.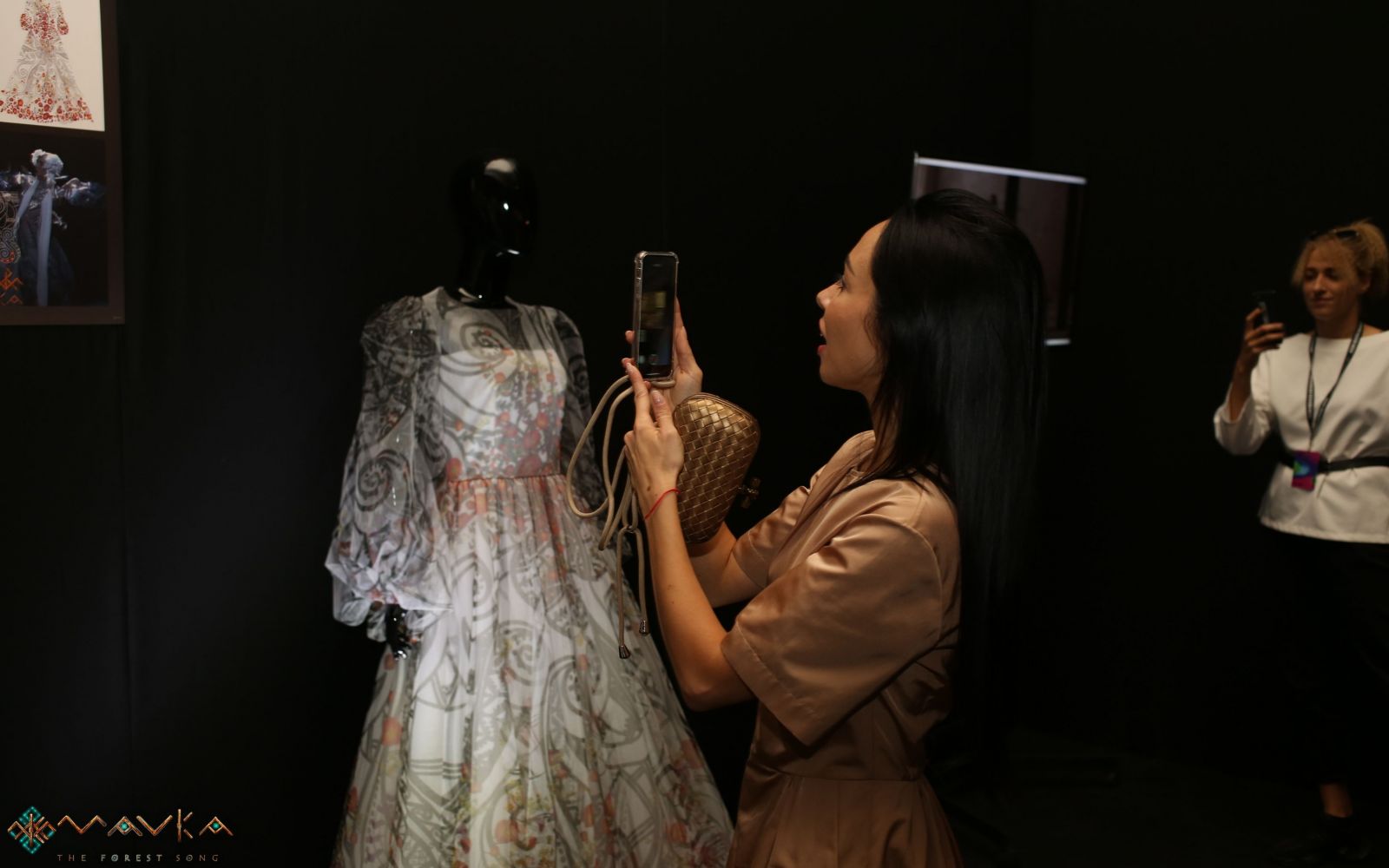 The Mavka Universe is a unique world where fantasy and reality intertwine. Though magic and wonders play the leading part here, along with the fantasy Olga Navrotska helped to create while working on Mavka's style, there is a place for genuine ethnographic elements. Ethnography and folklore experts from Taras Shevchenko University, Ivan Honchar Museum and Ukrainian Museum Fashion contributed to creating this world.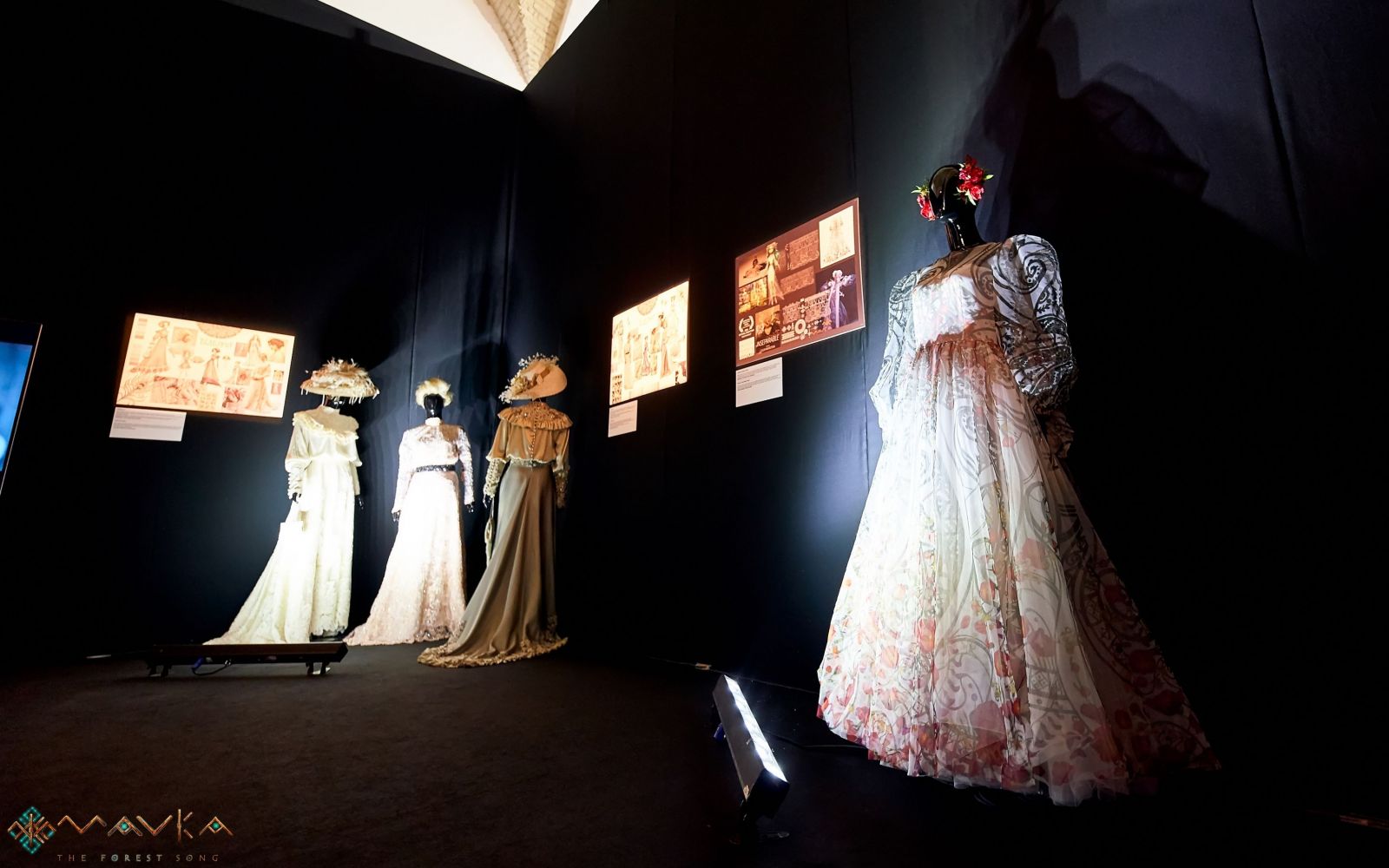 In addition to costumes from the Mavka Universe, designs from other projects by FILM.UA group that haven't premiered yet, were exhibited at FFFK Space, among them costumes from history, action "The Rising Hawk", and romance "The Maid-in-Law", series "Love in Chains", fashion films by costume designers, character deign mood boards, mood teasers, trailers and back-stage videos from Ukrainian films that will come out in 2019-2021.