From now on, the shelves of stores and supermarkets all over Ukraine will offer new sweets with characters of the upcoming film on the packaging, including Mavka herself, Lucas, Swampy, Mosslings, and Dot puppy.
"We develop Mavka's Universe as passionately and tirelessly as the animated film. The fact that we have already sold licenses for its characters is a unique case for the Ukrainian and global market, because the animated film isn't even out yet! I'm sure it has to do with the magical charm of Mavka's image itself, the brand strength we build, and a great Ukrainian public demand for culture heroes-characters that can unite the country and generations. We are very proud of our cooperation with Lucas, it isn't just about commercial success, it demonstrates development and formation of the Ukrainian market, both for animated films and licensing," – the producer of the animated film Iryna Kostyuk comments on the partnership with the confectionery company.
A new unique recipe was developed specially for double-layered Mavka sweets: crushed peanuts, soft caramel, and raisins. This is doubtlessly an original and unmatched product.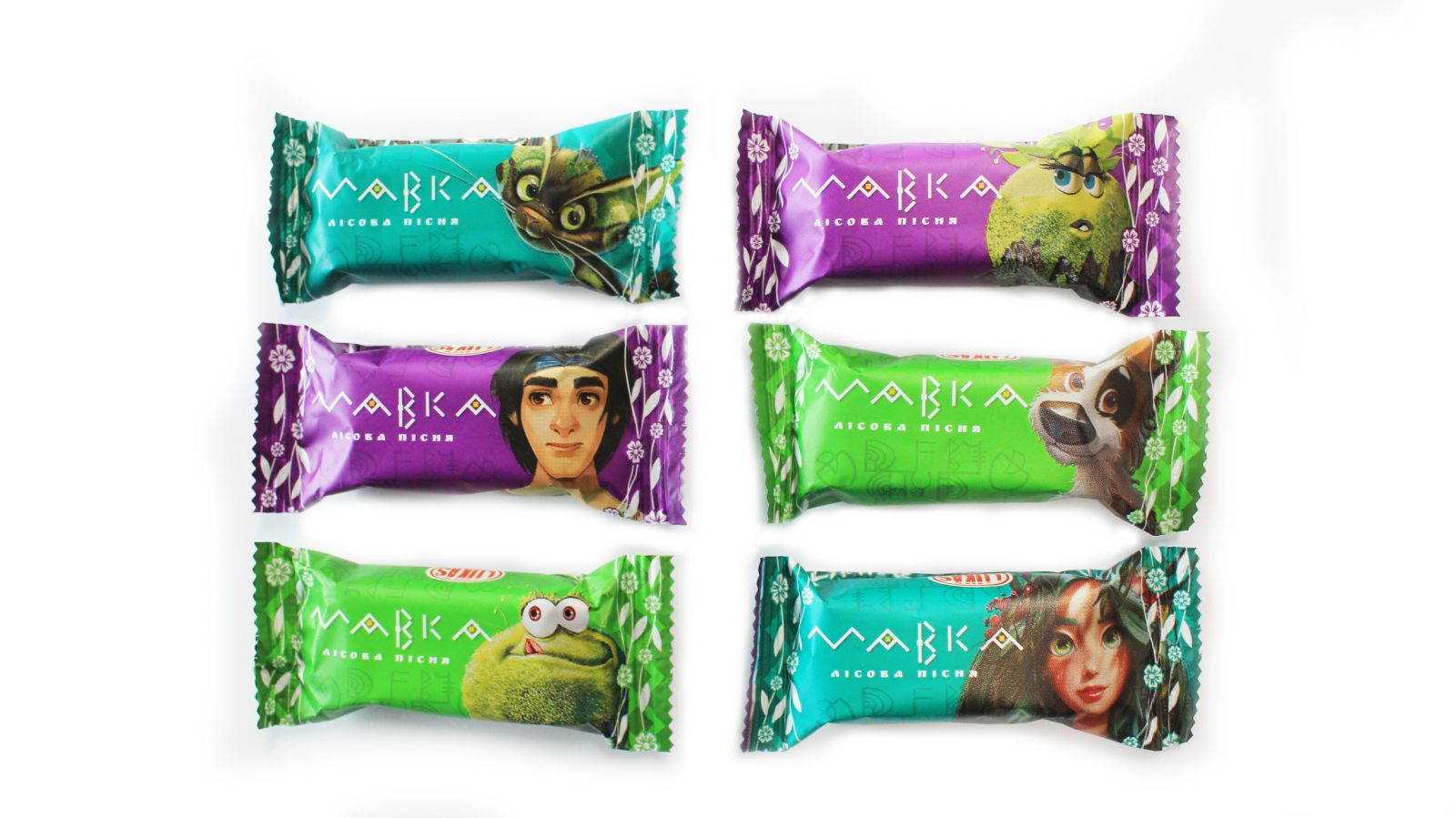 Lucas company works steadily in the Ukrainian sweets market for over 20 years and exports its production to 52 countries. Company's mission is fully satisfying the consumer's need for quality and safe confectionery products based on natural ingredients.
"When we first heard about the upcoming animated masterpiece 'Mavka. The Forest Song', we were captivated by the story and images, it inspired us to create exceptional sweets. The Mavka line of products is an absolute novelty. This combination of peanuts, caramel, and raisins is first to market. So, we underlined our product exclusivity with a unique packaging. Mavka's Universe, its characters reflect the Ukrainian authenticity, beauty, peculiarity, and, most importantly, it is appealing to the family demographic," – Ludmila Botalova, the Head of Marketing Departament of Lukas Manufacturing and Trading Company, comments on the collaboration.
In addition to the main line of Mavka sweets, the confectioners also developed a Christmas themed holiday line in special packaging. It is already sold out: the chain stores preordered it. And there are a lot of surprises and novelties to come: a giant Mavka sweet is to be produced next year, it may even make it to the Ukrainian Book of Records.
'Mavka. The Forest Song' animated film is created by Animagrad studio renowned in Ukraine and abroad for large-scale animation projects. It produces and develops a number of animated films and series for the international market.
"Animagrad studio team, when working on Mavka, completed an incredible task: it created splendid emotional characters, and, more importantly, their own authentic and original universe. We are very happy that energy and creative talent invested in this project by many people now attracts so many partners to cooperation. This opens new unique opportunities for the partnering brands and for the further development of the Ukrainian animation", – Egor Olesov, a producer of the film, shares his thoughts.

Follow Mavka and Lukas on social media to get all the news. The brands prepared contests, giveaways and gifts for the followers to celebrate the start of cooperation.