On November 30th, Ukrposhta together with Animagrad studio (FILM.UA Group) presented a postage stamp issue featuring the characters of the Mavka. The Forest Song animated film to celebrate the 150th anniversary of Lesya Ukrainka's birthday.
The postage stamps feature the main characters of the Mavka. The Forest Song animated movie, based on Lesya Ukrainka's classic drama fairy-tale. Those are Mavka, her beloved Lucas, and Swampy – a magical forest creature.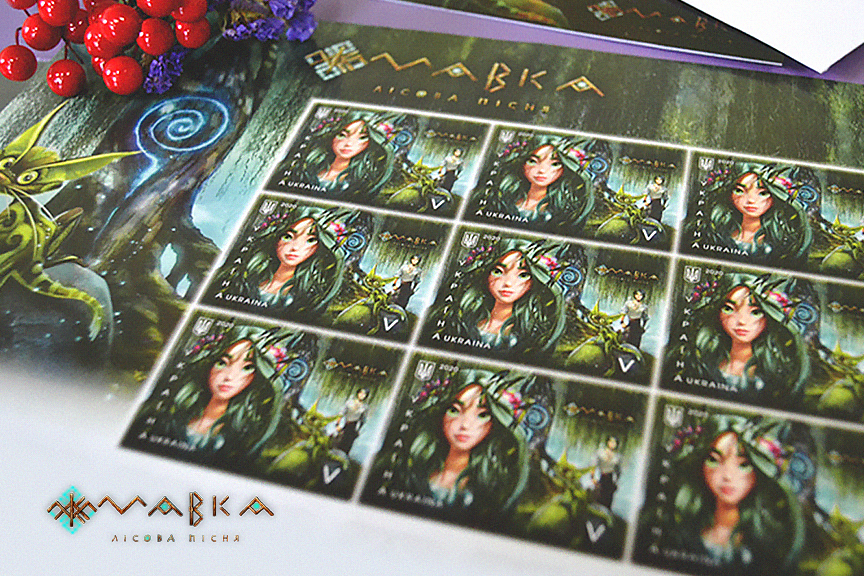 "Ukrposhta, through its stamp collection, continues promoting Ukrainian cartoons. We already released the stamps featuring the characters of The Stolen Princess animated film. And now the cooperation with FILM.UA Group resulted in the stamps featuring the characters of Mavka. The Forest Song cartoon. We keep repeating that postage stamps are on trend. Kids still can be excited about them, especially with such bright and modern releases. I am certain these stamps will spice up the collections of not only Ukrainian philatelists but also of international stamp fans," – said Igor Smelyanskiy, Ukrposhta CEO.
The collector's set has a sheet of postage stamps, the First Day envelope, and a postcard. The envelope shows Mavka in her winter look holding a lynx cub in her arms, and the magical Willow tree – the Heart of the Forest – is in the center of the composition. The grille has the Mavka's magic rune shape symbolizing the unity of the four elements.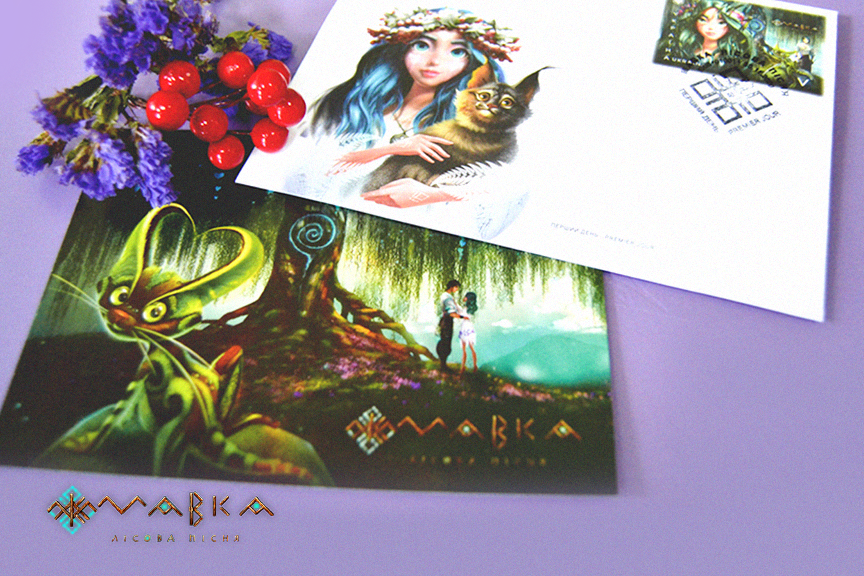 "Our team is proud that Mavka and the characters of her universe will be in the one-of-a kind national project by Ukrposhta to celebrate the Lesya Ukrainka's birthday anniversary. And we are happy to join this outstanding event and to promote the ingenious images of the writer here in Ukraine as well as all over the world," – emphasizes Anna Eliseeva, the creative producer of Mavka. The Forest Song.
Postage stamp Mavka. The Forest Song, printed on self-adhesive paper, will be available in the Ukrposhta offices, in its official online store, and also in FILM.UA Store starting from November 30th. There are 100 copies of stamps printed, their nominal value is V (being 9 UAH), this is enough to send an ordinary mail up to 50 g within Ukraine.
Ukrposhta and FILM.UA Group have several successful projects running together. The postal stamp The Stronghold launched into circulation in 2017, The Stolen Princess in 2018, and a stamp to celebrate the premiere of the Ukrainian historical action movie The Rising Hawk was issued in 2019.