You'll be able to see them on August 24, at 7:15 AM Kyiv time, on the air of morning show on Ukraina TV channel, a special issue dedicated to Independence Day. The project hosts Svitlana Katrenko and Iryna Volkova will appear in front of the audience in dresses made by Olga Navrotska, Ukrainian designer and costume artist for Mavka. The Forest Song animation feature film. The outfits became a part of the first MAVKA capsule collection, which consists of six dresses.
"Our Mavka is an ancient mystical creature, she can be different from nature itself. She is night and day, flower fields and green forest, fire, and water. In my dresses, I tried to reflect the feeling of Mavka's world and image through a combination of fairy tale ornaments and floral elements. Each dress conveys a certain mood; the red one is a summer sunset, the purple one is a spring sunrise. This is how six dresses, six moods, and states appeared," says Olga Navrotska explaining the collection concept.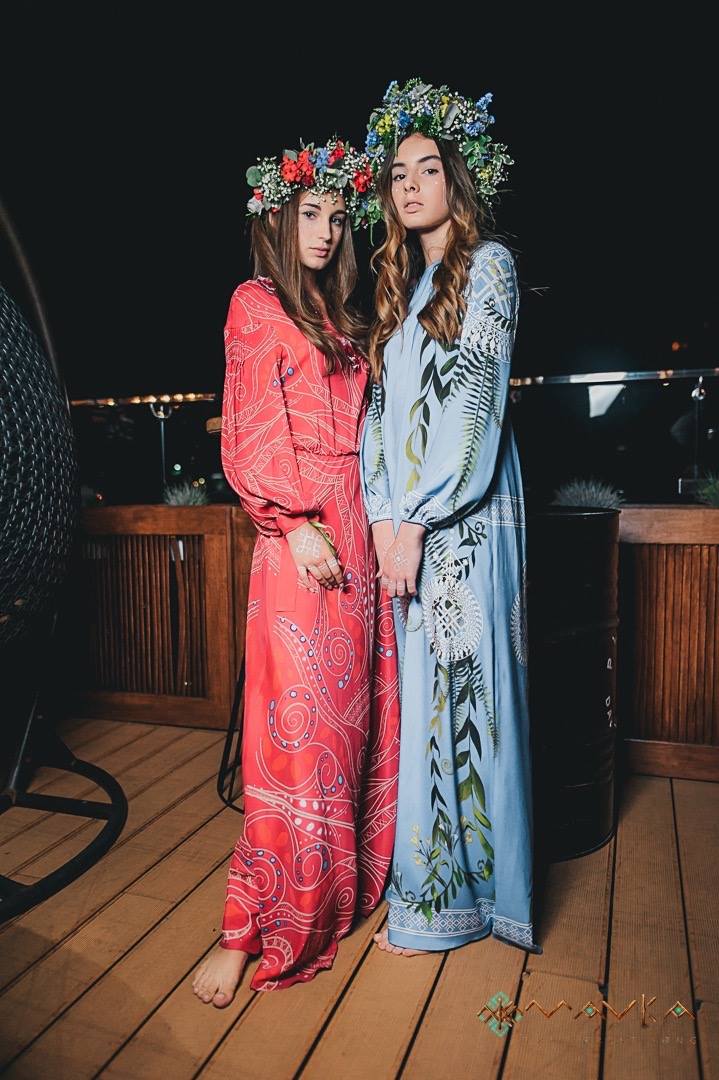 Just a reminder: the presentation of MAVKA capsule collection took place during a party dedicated to the national premiere of the first teaser to Mavka. The Forest Song animation film: a photo report from the fashion show can be found here.
FYI: 'Mavka. The Forest Song' is a full-length animated feature produced by Ukraine-based Animagrad (FILM.UA Group). It is currently at the concept stage of development. The film is inspired by a play "The Forest Song" by Lesya Ukrainka, as well as by various Ukrainian legends and cultural traditions. The film's production crew includes experts from leading ethnography institutes: the Ukrainian Studies Center at the Taras Shevchenko National University of Kyiv, the Ivan Honchar Museum, and the Ukrainian Fashion Museum. The experts are there to ensure the authenticity of the Ukrainian myths and legends, religious beliefs, rituals, and visual culture translated into the singular animated world of Mavka. And the world-renowned group DakhaBrakha has already committed to creating the film's soundtrack.In September 2016, the animated feature 'Mavka. The Forest Song' won the ninth contest held by the Ukrainian State Film Agency and was awarded state financing in the amount of 30% of the film's total budget. 'Mavka. The Forest Song' is scheduled for release in Ukraine in 2019.