Koch Films, the German distributor, has acquired the package of rights for animated feature Mavka. The Forest Song by Animagrad studio (FILM.UA Group) in Germany and German-speaking countries. According to the terms of the deal, the premiere of the Ukrainian animated feature will take place at the theaters of these countries.
Koch Films pre-sale follows numerous major international agreements for the project. The international pre-sales of Mavka. The Forest Song animated feature started exactly one year ago on the Marche du Film market in Cannes, where the rights have been acquired by Italia Film International, a sub distributor of Walt Disney Studios in the countries of the Middle East and North Africa. Over the past year, the project has been featured on key film markets around the globe, and drawn attention of various international buyers and distributors. Thus Mavka. The Forest Song was sold to Poland (Monolith Films), the Czech Republic and Slovakia (Cinemart), Estonia, Latvia and Lithuania (ACME Film), Portugal (Cinemundo), Romania, Hungary, Bulgaria (Vertical), Serbia, Croatia, Slovenia, Macedonia, Bosnia and Herzegovina and Montenegro (Blitz).
"This so significant for us, and there is even some kind of tradition in making deals on Mavka. The Forest Song sales at the Cannes Film Market. That is why the agreement with Koch Films is a big step up for our project. This is a bright start of the 60th jubilee film market, and we are looking forward to new successful deals, as Mavka. The Forest Song animated feature is one of the headliners on the FILM.UA Group booth," said Yevhen Drachov, FILM.UA distribution manager.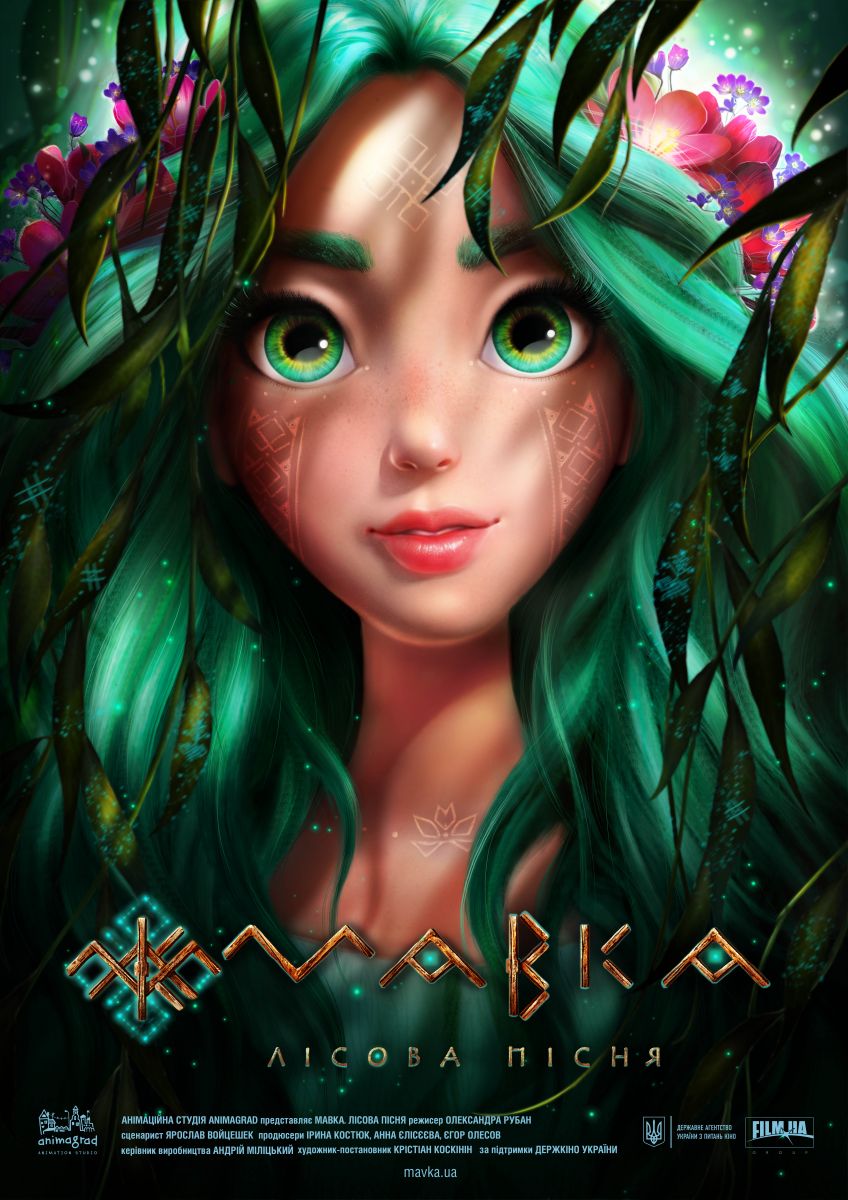 Download posters.
Note: MAVKA.THE FOREST SONG is the second full-feature animated film by Ukrainian Animagrad studio (FILM.UA Group), which is currently in production. This animated film is based on Lesia Ukrainka's play The Forest Song, as well as Ukrainian myths and traditional lore.
WWF (World Wildlife Fund) is a partner of the MAVKA.THE FOREST SONG project. The partnership includes consulting by WWF's Ukrainian experts of the project's creative team regarding the flora and fauna of the Polissya region, as well as implementation of a series of projects aimed to protect old-aged oak-woods of Polissya and raising awareness of the environmental issues of Ukraine among Ukrainian and global public.
The experts of the leading national ethnographic institutions, including the Department of Folklore Studies of the National Taras Shevchenko University of Kyiv, Ivan Honchar Museum, and the Ukrainian Fashion History Museum are working with the production team on interpretation of Ukrainian myths, legends, beliefs, and visual culture in MAVKA's unique animation world.
The world-famous musicians from "DakhaBrakha" are joining the project to create the original soundtrack.
MAVKA.THE FOREST SONG has won the 9th competition held by the State Film Agency of Ukraine in September 2016 and has received state financing in the amount of 30% of the total budget.
The estimated release date for MAVKA.THE FOREST SONG animated feature is 2020.